MEDICAL STANDARD ACNE TREATMENT
Acne is a common dermatological problem at all ages, from teenagers to working-age even in the 50s. The pathogenesis of acne is inherently complicated. The understanding of pathogenesis shows that important factors contributing to the formation and development of acne include: hyperkeratinization, C. acnes bacterium, sebaceous hyperplasia, and complex inflammatory mechanisms involving both innate and adaptive immunity.
Acnes, regardless of age or pathogenesis, cause heavy psychological effects and self-deprecation in communicating. In addition, acne if not treated early and properly can also cause acne scar which is hard to treat. Therefore, acne treatment needs to be initiated as soon as possible and needs to be individualized according to the pathogenesis of acne and the different psychological characteristics of each age.
Today, with advances in cosmetic dermatology, the treatment of acne is not only using topical drugs and oral drugs but also applying various technologies such as comedone extraction, facial peels with natural acid, iontophoresis of acne-specialized cosmeceuticals, Biolight and intense-pulse-light to kill C. acnes bacteria and prevent acne scars.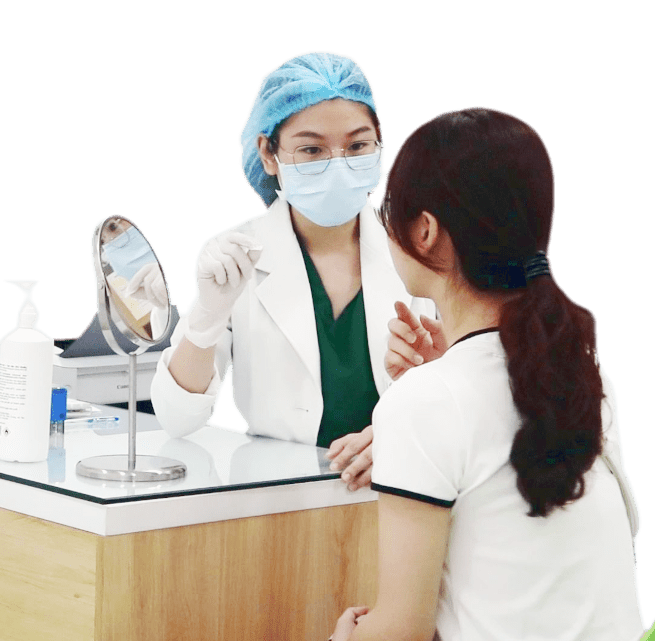 After successful acne treatment, it is necessary to overcome the consequences left by acne such as large pores, uneven skin tone, and less youthfulness, this is the time when the skin needs to be continued treating with skin regeneration procedures, including combinations of stem-cell therapy, platelet-rich plasma PRP, skin tightening mesotherapy, vitamin C or skin-recovery serums iontophoresis, microneedling, fractional CO2 laser, and whitening peels.
From a thorough understanding of the pathogenesis as well as the principles of treating acne and post-acne skin problems from updated Medical Guidelines, our Dermatologists will examine and recommend the most appropriate and personalized treatment for each person's skin condition. The acne treatment and post-acne skin recovery courses at Doctor Acnes Clinic are a smooth combination of medical treatment, modern aesthetic techniques, and European/American standard medical devices and cosmeceuticals.
With modern facilities, medical standard procedures, and a team of experienced Dermatologists, Pharmacists, and Technicians, Doctor Acnes Medical Clinic is confident to bring you a medical standard acne treatment course. effective, safe, and relaxing moments during your treatment time.
Are you confused about choosing a Dermatology Clinic to treat acne? Come to Doctor Acnes Medical Clinic to get advice on the most suitable acne treatment regimen personalized for you.
Dermatology Aesthetic Technologies
Direct Consultation with
Dermatologist
Sign-up here for advice on the most suitable course for your skin as well as post-treatment skin care methods.
CONTACT