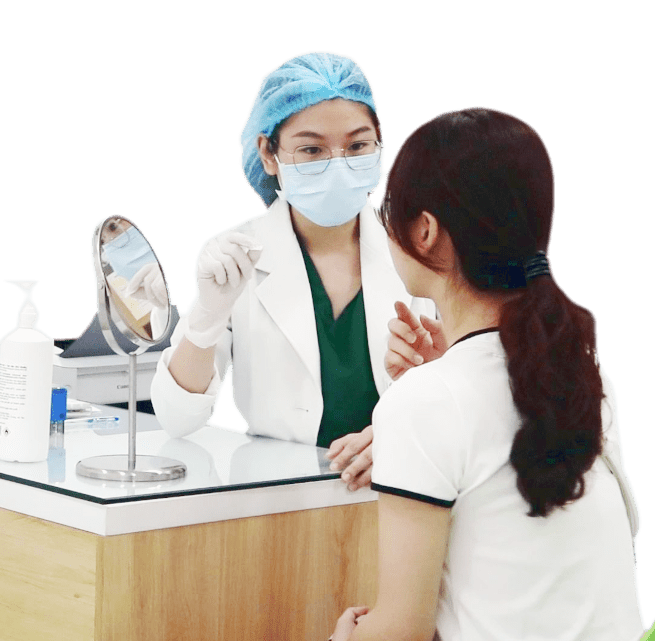 Say goodbye to hyperpigmentation, quickly smoothen and brighten your skin
When acne passes, it often leaves dark spots, also known as hyperpigmentation. Acne hyperpigmentation will fade over time and can be treated with many home remedies. However, the self-treatment at home of hyperpigmentation has many limitations such as being time-consuming and taking a lot of effort, slow efficacy, risk of skin irritation or worsening of dark spots if applied in the wrong way. Self-treatment at home also requires high perseverance while efficacy depends on each individual's atopy.
Fortunately, with the development of cosmetic dermatology, there are now many advanced methods that dermatologists can choose to treat acne hyperpigmentation effectively and quickly. The most effective treatment technologies that can be mentioned include facial peels with natural acid, pure vitamin C, or special whitening serums iontophoresis, combined with other types of skin whitening products. skin revitalizing mask. Dermatologists will also prescribe additional cosmetic products for home skincare to optimize treatment effectiveness.
Thanks to possessing the most effective acne treatment procedures today, combining modern aesthetic technology and prestigious cosmetics in Europe / USA, Doctor Acnes Dermatology Clinic is one of the prestigious beauty addresses chosen by many people. 100% of customers will be examined by Dermatologists and indicated the most appropriate course of treatment depending on their skin condition and personal needs, helping to quickly overcome post-acne bruises, including perennial dark spots.
.
Dermatology Aesthetic Technologies
Direct Consultation with
Dermatologist
Sign-up here for advice on the most suitable course for your skin as well as post-treatment skin care methods.
CONTACT