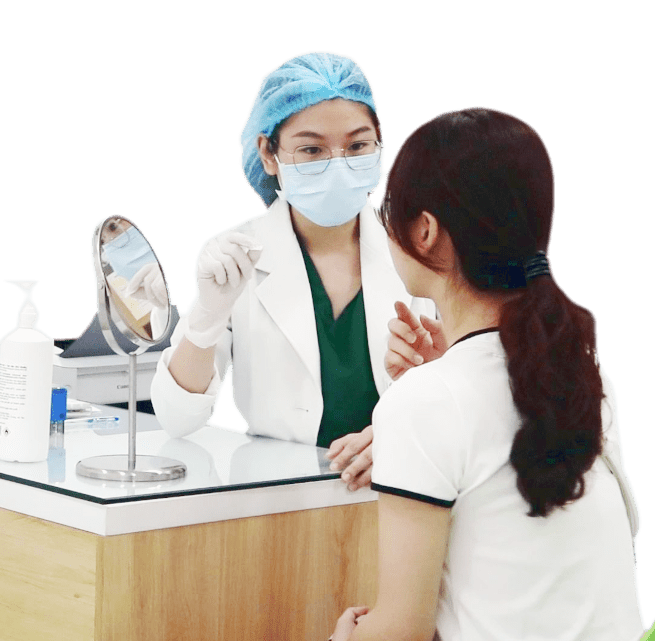 Medical grade solution for enlarged pores
Excessive secretion of the sebaceous glands (manifested as oily skin) is one of the important pathogenesis of acne and is also the main cause of enlarged pores. Therefore, acne and enlarged pores are often skin problems that happen at the same time. Large pores cause the skin to lose its smooth and youthful appearance.
Regulation of sebaceous gland secretion is the goal of treatment to be achieved in people with acne due to overactive sebaceous glands and is also the goal of treatment in those with enlarged pores.
At Doctor Acnes Clinic, the pore shrinking process is a combination of the simultaneous use of special cosmeceutical products in the treatment procedures as well as daily skincare at home and the latest medical-standard cosmetic dermatology technologies such as facial peels, microneedling, IPL, or laser.
The team of Dermatologists and Pharmacists who specialize in cosmetics at our clinic will help choose the most suitable cosmetic products for your skin to regulate the sebaceous glands and effectively shrink pores, returning the smooth, youthful skin.
Besides, the medical-standard cosmetic dermatology technologies at Doctor Acnes Medical Clinic are modern techniques performed with genuine devices, meeting European/American standards.
With modern facilities, medical standard procedures, and a team of experienced Dermatologists, Pharmacists, and technicians, Doctor Acnes Medical Clinic is confident to bring you a safe and effective treatment course to shrink pores and relaxing moments during the treatment time.
Direct Consultation with
Dermatologist
Sign-up here for advice on the most suitable course for your skin as well as post-treatment skin care methods.
CONTACT